In our economic update this week, we discuss the recent headwinds that are affecting economic growth and provide insight into some of the recent earnings reports. We have also included two additional economic update links for you this week:
Reviewing inflation, recession risks and other economic headwinds,

featuring RBC Global Asset Management's Chief Economist, Eric Lascelles

Audio Commentary: Inflation, the growth outlook, and some thoughts on fixed income,

featuring

RBC Wealth Management's Mark Bayko and Jim Allworth
In addition to our economic update, we are featuring a series of podcasts that focus on mental health and wellness that we hope find space on your playlist. You'll find impactful conversations with Bryan Baeumler, Harry Connick Jr, Arlene Dickinson, and more. Your link is below, Chatter That Matters: A Spring Spotlight on Mental Health.
In our email last week, we featured information about phone messaging scams and what to be on the lookout for. This week we are continuing with our cyber security feature, sharing information about How to protect yourself online.
As always, we end our weekly newsletter with a few good news stories from in and around our community. We have also included an article about the recent Inspirational Women event hosted by the Guelph Chamber of Commerce at Cutten Fields.
We hope that you enjoy your long weekend!
Our office is closed on Monday, May 23.
We will be back answering your phone calls and emails on Tuesday, May 24.
---
Economic update
Global equities remain under pressure as markets are grappling with a host of headwinds that are beginning to challenge the economic and earnings growth outlook. More recently, investors have been digesting the results from a number of consumer companies that suggest the operating environment has become more demanding. We provide a brief update below.
Key takeaways from earnings season
Over the past week, a number of "big box" U.S. retailers published their quarterly earnings reports. While results varied from one to the next, there were some distinct takeaways. Reassuringly, consumer demand remains reasonably healthy, and some companies largely reiterated their revenue forecasts. However, some acknowledged a notable shift in demand from larger household and durable goods (like furniture, appliances, and home improvement items) towards staples like food.
It's worth noting that some kind of change in demand mix has been anticipated. More specifically, investors have been expecting demand for goods, which grew tremendously during the pandemic, to decline to more normal levels, while demand for services was expected to return in a meaningful way as the travel and hospitality sectors reopened. This appears to be underway, but the retail industry results suggest some consumers may be starting to prioritize food and other necessities, at the expense of more discretionary items, given price inflation and higher borrowing rates.
The pressure on profit margins
The other important, albeit less surprising, takeaway from recent results was with respect to costs. They continue to rise. This reflects a combination of supply chain challenges and overall inflationary pressures. Companies have kept elevated inventories because of concerns over the global supply chain. Meanwhile, freight, logistics, and labour expenses have been running higher than planned, which is consistent with issues noted across other industries.
Given the above, margins have started to come under pressure. Margins are a measure of profitability as they measure the difference between revenue and costs. Until recently, companies had proven to be quite resilient at navigating through a challenging supply and cost environment. But, it appears that this is starting to change, at least within the retailing industry. Understandably, we expect investors to begin to question whether other industries will inevitably start to see similar challenges in the months to come.
It's fair to say economic and earnings growth are facing some headwinds. It's not necessarily abnormal, as economic cycles usually come and go, but the question remains as to whether the slowdown that is underway will turn into something more serious. On that front, we continue to monitor our indicators for the U.S. economy in particular. In the meantime, we are reviewing portfolio holdings to ensure they are positioned for a range of future potential outcomes. As always, we remain watchful and prepared to take advantage of the kind of opportunities that tend to emerge across asset classes during periods of broad market volatility.
Reviewing inflation, recession risks and other economic headwinds
In this video, Chief Economist Eric Lascelles continues to monitor the risk of recession. He observes signs of a decelerating U.S. economy, while China's economy struggles against stringent lockdowns. In Canada, he comments on the risks to the housing market as interest rates rise. Could these headwinds push the economy into a recession? He looks back to the late 1970s – a similar period of high inflation – to explore potential outcomes.
Watch the video online: Reviewing inflation, recession risks and other economic headwinds
Audio Commentary: Inflation, the growth outlook, and some thoughts on fixed income
In this episode, RBC Wealth Management's Mark Bayko and Jim Allworth discuss the outlook for inflation and its impact on the broader economy and markets, as well as an update on our recession scorecard.
Listen to the audio commentary online: Inflation, the growth outlook, and some thoughts on fixed income
Chatter That Matters: A Spring Spotlight on Mental Health
In any given year, one in five Canadians will personally experience a mental health problem or illness. Since the pandemic, 54 percent of Canadians say their mental health has worsened. These Chatter That Matters episodes shine a light on the need for support and the benefits of sharing lived experiences.
In these episodes, you'll discover journeys of adversity and hope. You can listen to all episodes at The Collective, or by clicking the individual links online: Chatter That Matters: A Spring Spotlight on Mental Health
Guelph Chamber of Commerce: Inspirational Women
This week, the Guelph Chamber of Commerce hosted the final event in their Inspirational Women series. This in-person event was hosted at Cutten Fields in Guelph, and it was wonderful to see so many familiar faces there.
Emma Rogers, CEO of the Children's Foundation of Guelph and Wellington was the featured speaker at this event. Emma shared her words of wisdom with the group, along with her career journey that resulted in her taking over the reins at a high-profile community organization. Lessons learned: Find a mentor no matter where you are on your career path, and also be a mentor to those who are just starting out. Be your whole self and remember that being vulnerable is part of being human. Follow your instincts and find your fit in your career path, never doubting your ability to do and be more. And, 70% can be 100% if you work for it!
e would be remiss if we didn't also recognize the amazing interviewing skills of our very own Jennifer Goody-Brown. Keeping the conversation moving, diving deeper into those questions we all wanted answers to, Jennifer was an inspiration to many as well.
We were thrilled to partner with the Guelph Chamber of Commerce as the presenting sponsor for this series. It has been an absolute pleasure to hear from all of the speakers and learn from their journeys.
How to Protect Yourself Online
Become Your Best Defence Against Cyber Criminals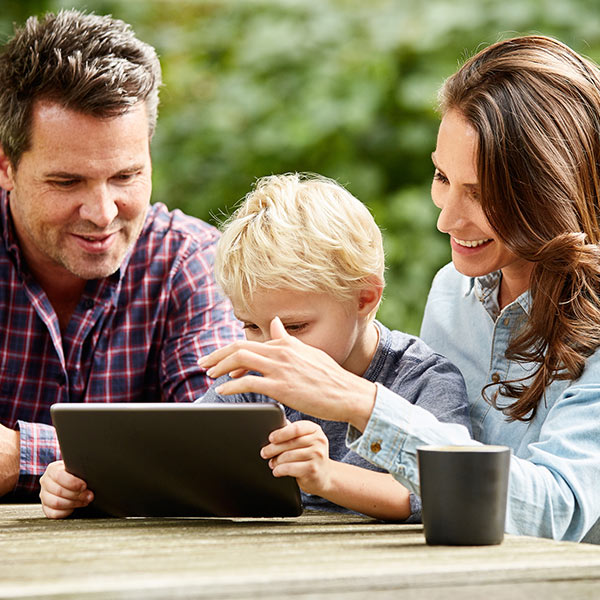 Being vigilant about your online security is essential to guarding against cyber criminals. And, while RBC is committed to keeping your financial information safe and secure, there are simple steps you can take to proactively protect yourself.
From creating strong passwords to keeping your emails safe, this online resource from RBC will help you to stay safe online: How to Protect Yourself Online
Community Corner
Each week, we like to share a few good news stories from in and around the community. We hope that they brighten your day!
As always, we are available to connect with you personally. Please don't hesitate to contact us at 519-822-2024 or elineskyschuett@rbc.com.